The Help Desk section is where residents can access information or request assistance with common inquiries like replacement FOBS, permission for unit renovations, bylaw infraction reports and garbage/recycling pickup schedules.
Creating a New Form
An Administrator can create two types of forms:
Information only. Such as visitor parking guidelines, this type of form is self service and is not assigned to an Administrator to perform a task.
Assigned Form. Such as an Enterphone Update request. This type of form must include a registered Tribe Home user who is responsible for performing the building or unit related task. This type of form converts into a Help Desk ticket which is associated to the unit, resident who submitted it and the assignee(s). Whenever a ticket is submitted, the assigned person(s) will receive a notification and can process the request or add a comment to the thread for further discussion.
To get started, click on Help Desk in on the left navigation panel.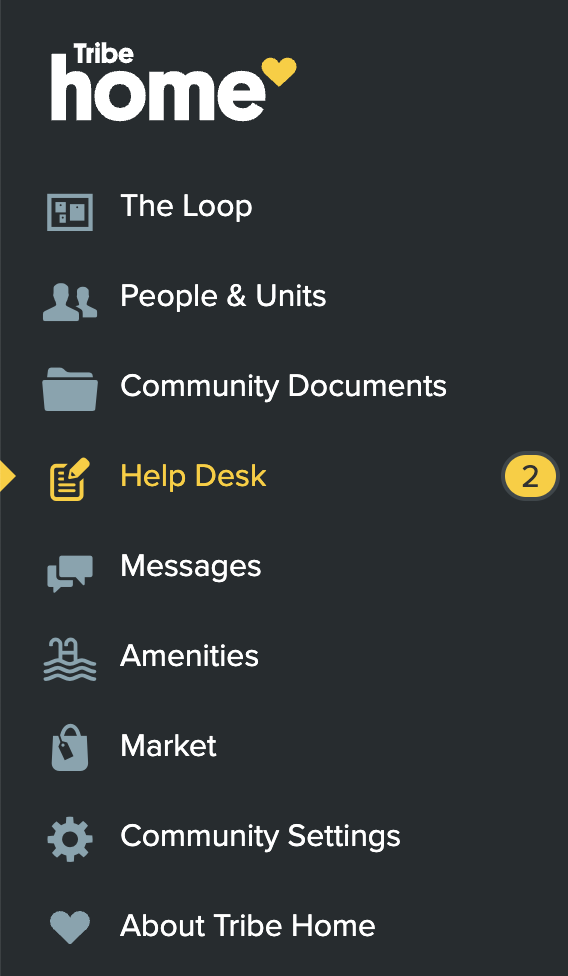 1. Click the Manage ticket templates button:

2. Click on Create a template under Custom Tickets:

3. Enter a Help Desk Form name under Ticket name and type in the information under Instructions. Adding an optional document (example: bylaws or instructions). If this is an Information only form, click Save.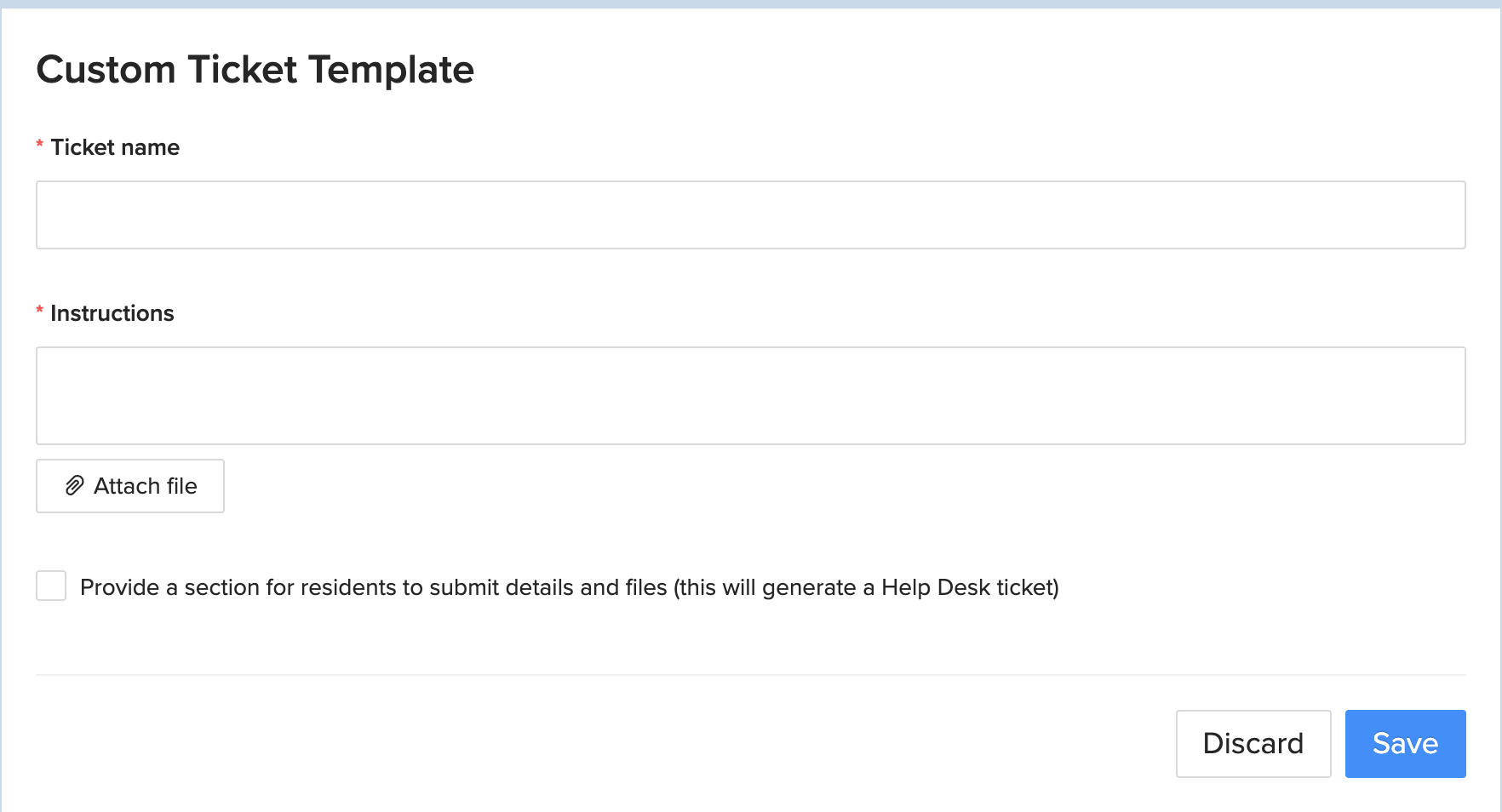 3b. If you wish to create an Assigned Form, check the box beside Provide a section to submit details and files (this will generate a Help Desk ticket). A new section will appear that will allow you to enter in the Default Assignee(s). Note: Assignees must be registered users of Tribe Home and they must have an Admin role.

4. Once saved, your new form will appear in the Help Desk section under Create a Ticket: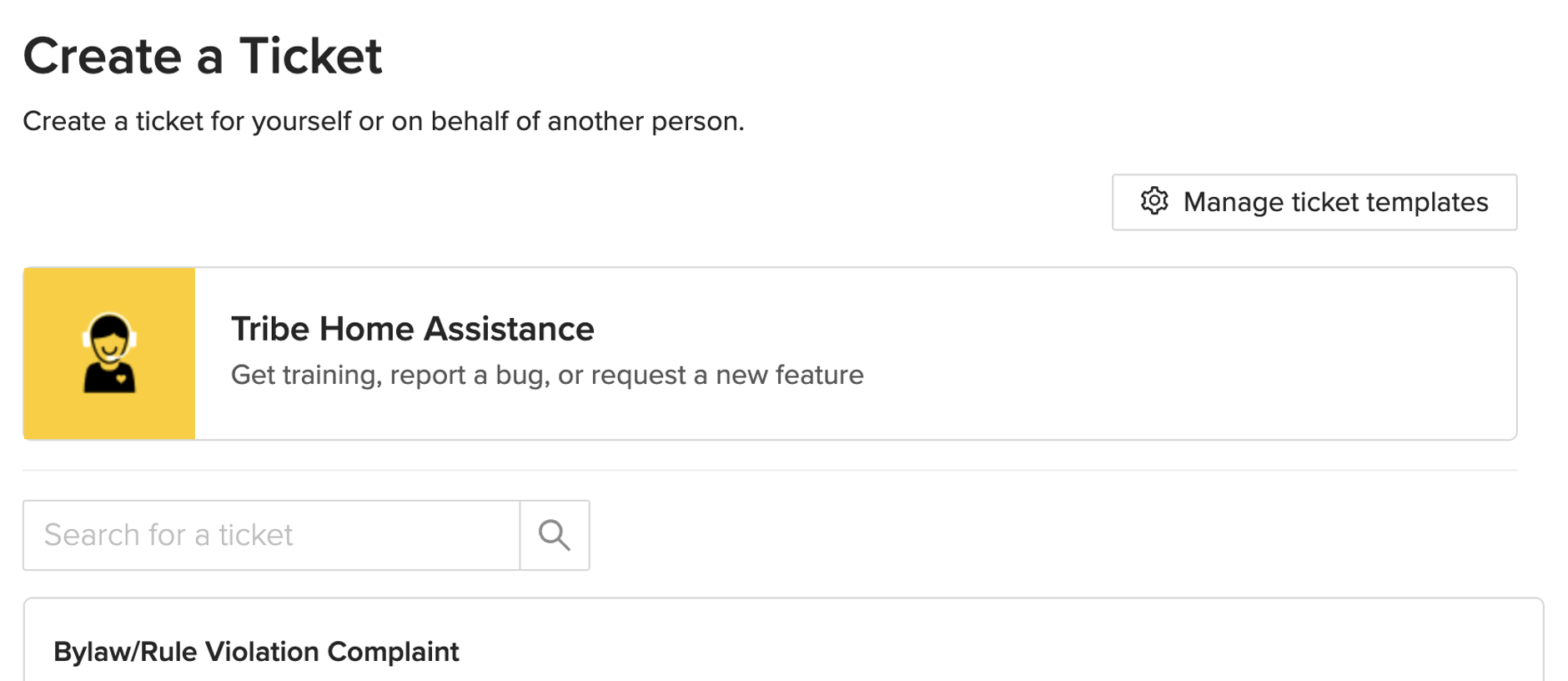 ________________________________________________________________________________________
Updating an Assignee in a Help Desk Form
1. Click the Manage ticket templates button:

2. Select the Help Desk Form you wish to update the assignee and click on Edit:
3. Click the X beside the assignee(s) and their name will be removed. Enter in a new assignee if required and then click Save.