The Help Desk section of Tribe Home provides Questions & Answers for commonly asked questions as well as a ticketing system to process requests and issues which are reviewed by Community Administrators (such as a Property Management Team).
Please note that this section is optional and may not be set up for your Tribe Home Community. If that is the case, please contact the Developer or the Property Management company for your building to request assistance. Tribe Home Support cannot assist with unit/building related issues/questions.
When you create an amenity booking, the request will converted into a Help Desk ticket and it will appear in this section.
To create a new request, please follow the steps below:
Submitting a Help Desk Ticket
Log into Tribe Home - app.tribehome.com
Click on Help Desk in the left side bar
The Help Desk section will display any submitted amenity bookings and help desk requests.
3. Click on Request help

Depending on the set up of your Tribe Home Community, you may see different options in Help Desk:

1. Example of a Help Desk that does not offer a Q&A or ticket system. The Tribe Home Assistance button is for Tribe Home Community Platform software support. This team cannot assist with building or unit related questions or issues. Please contact your Developer or Property Management company for assistance.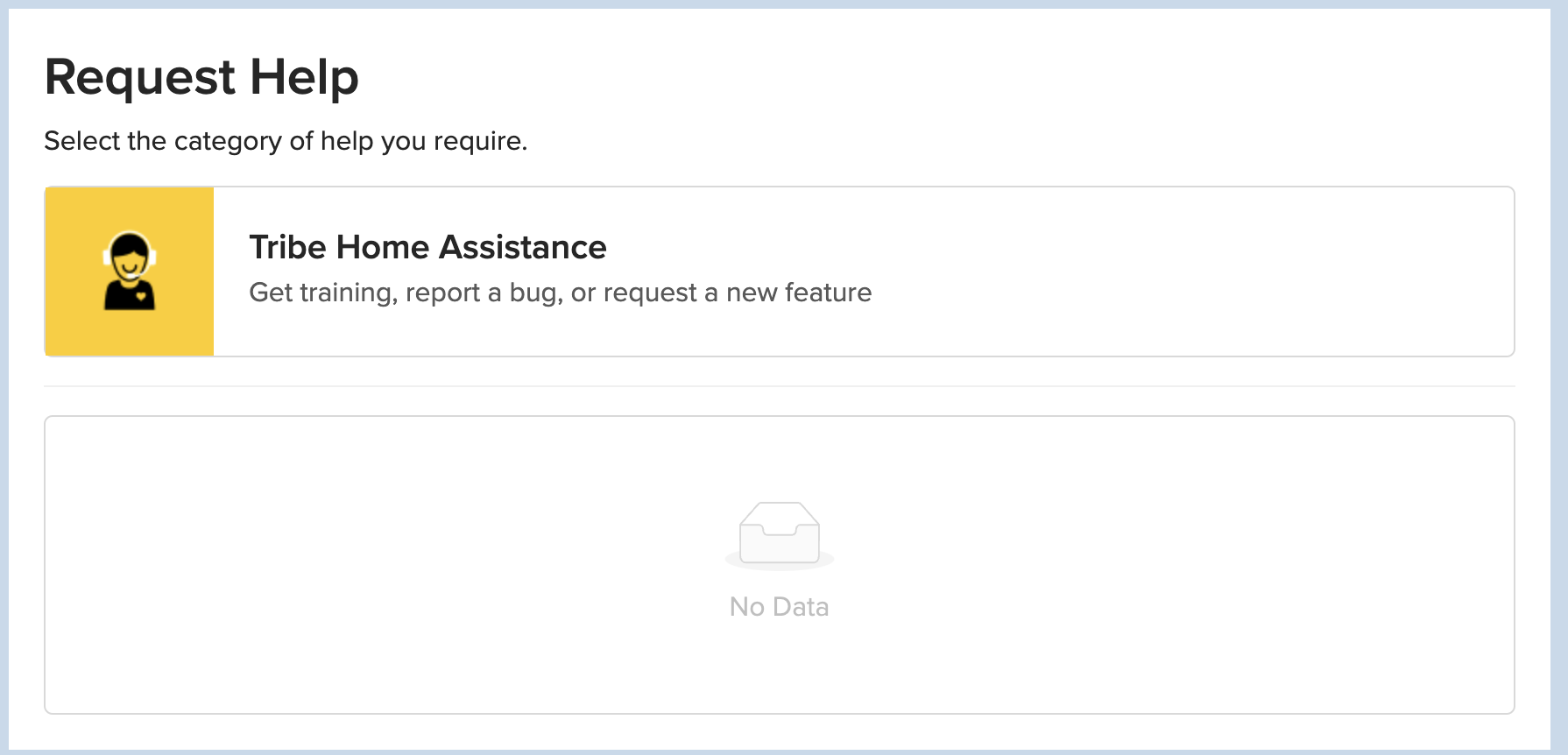 2. Example of Help Desk for residents of a Tribe Managed building.
Review the list and select the option that matches your need, if you don't see it listed, please use General Issue or Concern. Further instructions will be provided
If you need Tribe Home

Software

Support, click on the yellow Tribe Home Assistance button. This team cannot assist with unit/building related questions or issues.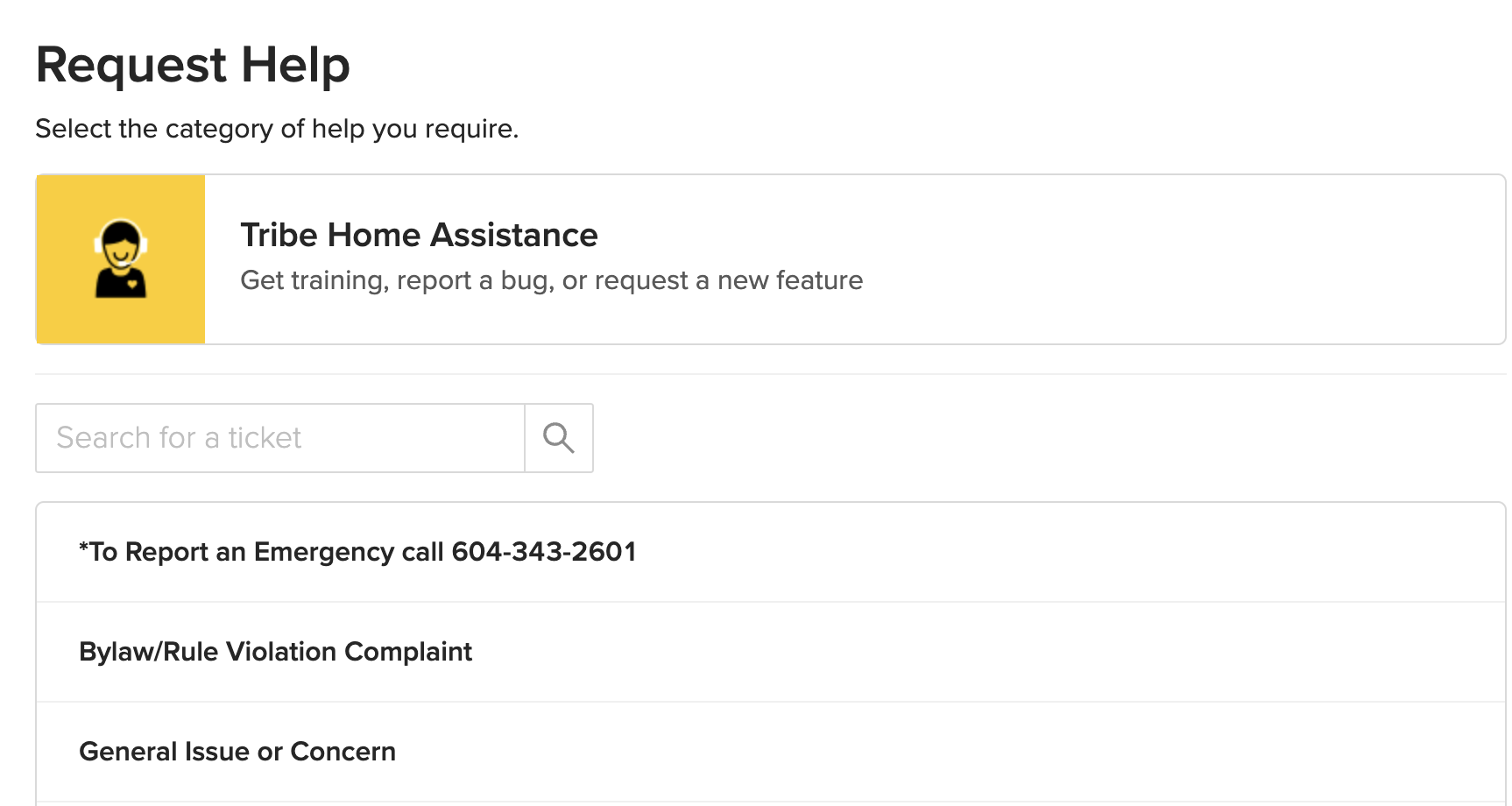 3. Alternate Help Desk set up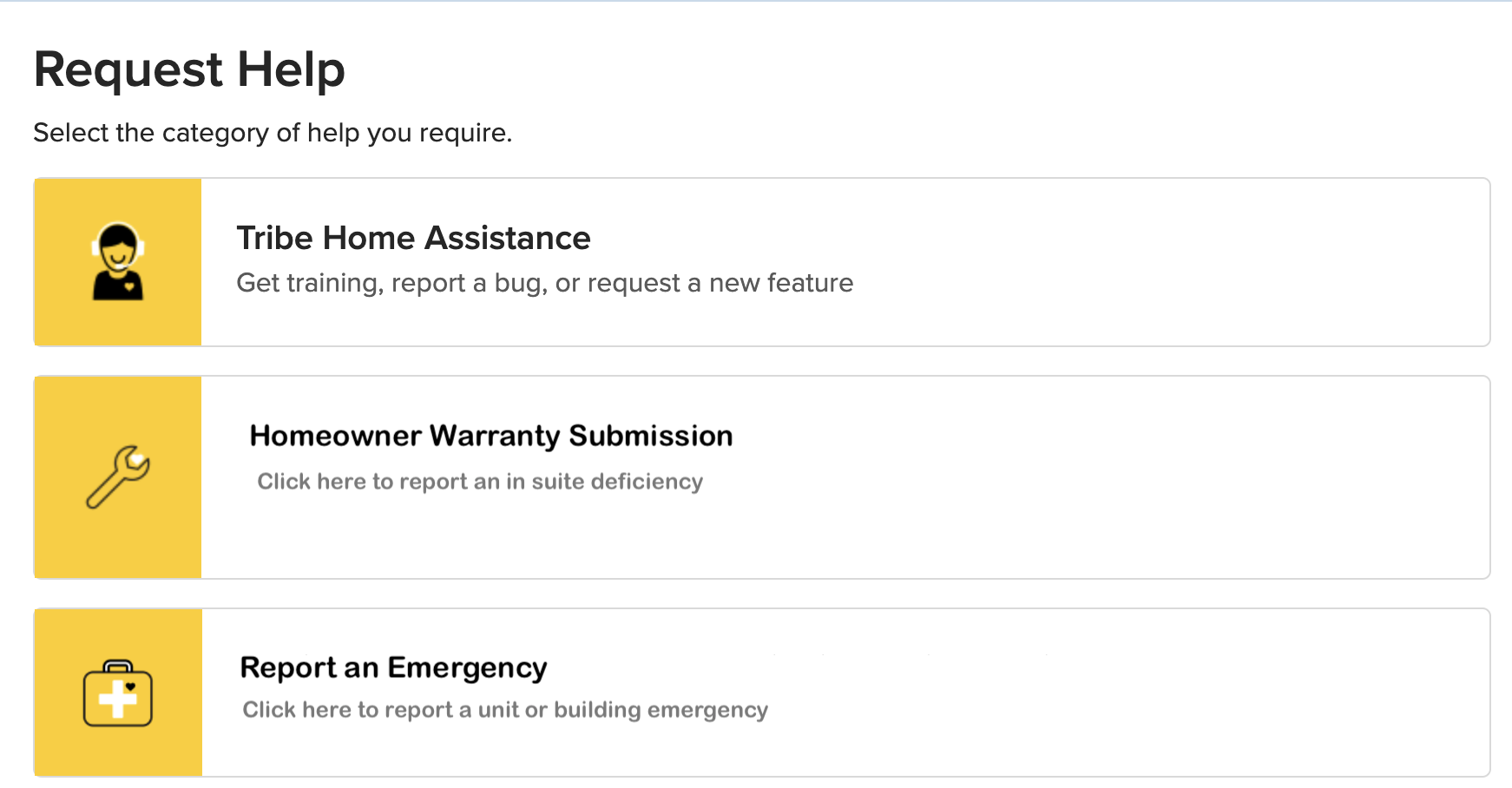 Tribe Home Assistance - Software support by the Tribe Home Support Team
Homeowner Warranty Submission - Reporting an in suite deficiency will be forwarded to the Developer/Builder of your building. This information is not reviewed/managed by the Tribe Home Support Team.
Report an Emergency. This information is provided by the Property Management Company.
----------------------
2. Submitting a request
If you have chosen a request that requires information from you, please follow the steps below:
Add information under submission details regarding your question or concern
A file may be attached for you to download, fill out and upload to the ticket.
Click on the file beside the paperclip, fill it out on your computer, save the information and then upload it to Tribe Home by using the file section below:
You can also attach your own document(s) or picture(s) as part of your request by dragging and dropping them into the ticket.
Upon clicking the Submit button, the information will be forwarded to the designated assignee for that specific Help Desk form. The ticket information will also appear in the main Help Desk area. To learn how to review your ticket or add more information, visit https://support.tribehome.com/hc/en-us/articles/17548825568653-How-to-view-a-list-of-submitted-Help-Desk-tickets