Tribe Home provides several forms within the application for community administrators to begin using right away. Tribe Home also provides community administrators with the ability to create their own ticket templates in the help desk section that is unique to their community.
Create a New Form
In the Help Desk section click the Manage ticket templates button.

You will see two options:

Custom Tickets- It

provides written instructions and downloadable files to community members who are in need of help.

Default Tickets- You can manage

the default assignee of each ticket by clicking the edit button.

Custom Tickets
Enter a Template Name
Enter Instructions so residents will know what they need to do to complete the form
Add an Assignee who'll be addressing the forms submissions. Note: If no one is assigned to the form, residents cannot submit the request or report but they will see it in the Help Desk area.
Add an attachment (optional). You may append a necessary document(s) to your form if applicable for your particular request or report.
Click Save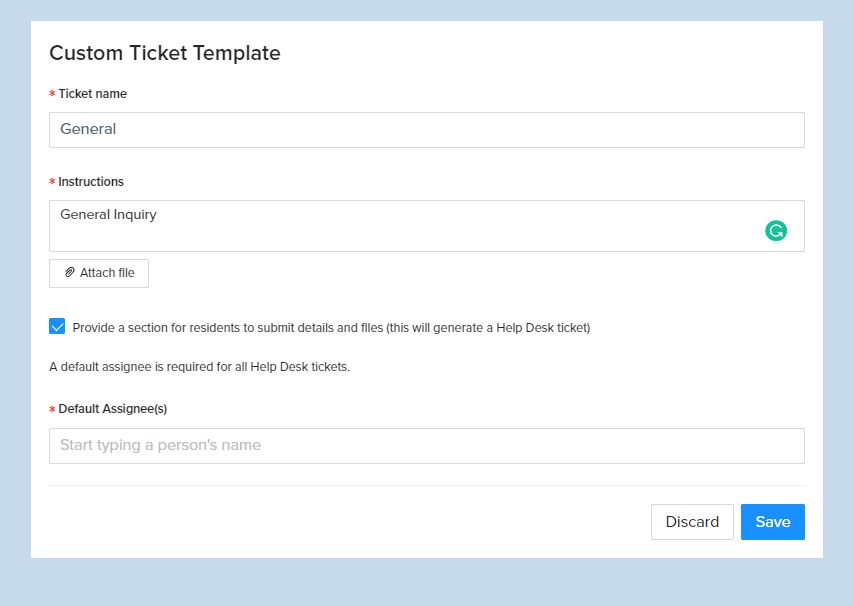 Once saved your new form will appear in the Help Desk section after residents click the Request Help button.
Default Tickets
These default tickets are built-in to Tribe Home and cannot be deleted
1. Loop Post- This will trigger when a resident has reported a loop post. Once you review and action this, you may reply and close

2. Join Tribe Home- Whenever an owner/tenant requests to join your private community network, a notification will be triggered in Assignee's help desk

3. Update Full Name- Whenever a resident requests a change to their legal name